Recently had a GORUCK Gear Store Credit issued by our team? To easily use and manage your store credit, please see below:

How to view and manage your store credit code
All GORUCK Gear Store Credits are added to a customer's shopper account. This means that if you lost or deleted your Store Credit email you are in luck since you can easily retrieve it by logging into your Shopper Account here.
Simply click on the Store Credit line under your Account Details: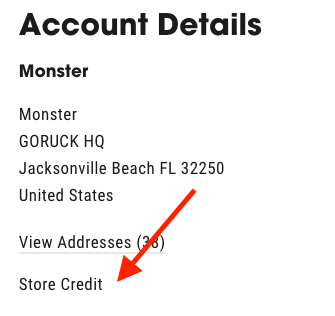 A pop-up window will display your store credit code which is also what we refer to as your Loyalty Card. The Loyalty Card permits you to have future Store Credit value added to it so you do not need to worry about saving multiple codes. You can also add Gift Cards to your Loyalty Card to keep all of your received GORUCK Gear funds in one place. Simply click the Add Gift Card within your account.
Please note that all GORUCK Gear Store credits expire within 24 months of the original issue date. All GORUCK Gift Cards expire within five years of the purchase date.
How do I use my store credit?
Simply enter your store credit code (aka your Loyalty Card code) at checkout in the Gift card or discount code box and click Apply. Store credits can be combined with other discount codes and to on sale items.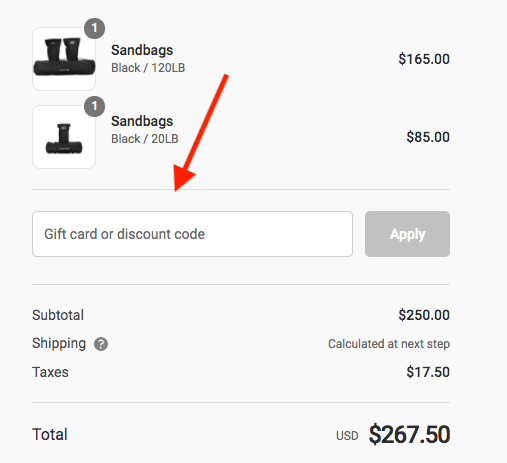 How do I add my Gift Card to my Loyalty Card?
You can add your Gift Card balance to your Loyalty Card for easier use by following the below steps:
Log into your GORUCK Shopper Account
Click Store Credit under your account details
Click Add Gift Card
Enter Gift Card Code
Once your Gift Card Code has been successfully added to your Loyalty Card then the original Gift Card Code is no longer valid or needed.